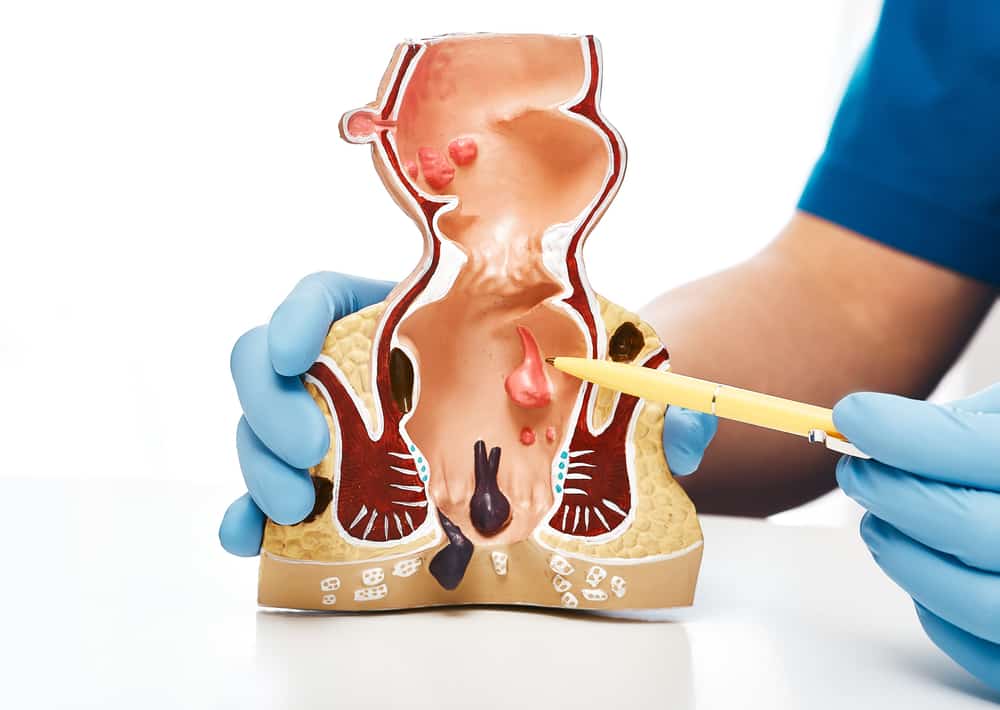 The diagnosis of hemorrhoids starts with the history. Most doctors blame the hemorrhoids for all anorectal complaints. A good doctor should take a careful history to detect the problem source and narrow the differential diagnosis before the examination. The most common presentations of hemorrhoids are rectal bleeding, perianal itching, and pain, which are nonspecific symptoms that occur with other serious diseases. Thus, the doctor should depend on a good history and physical examination to confirm the diagnosis. Also, the doctor should ask about the risk factor, such as diet, family history, prolonged straining, and heavy lifting.
After the history, the doctor will do a physical examination that includes visual inspection, digital rectal examination, and endoscopies (if possible and appropriate). Visual inspection of the anus can detect external hemorrhoids or prolapsed internal hemorrhoids. By visual inspection, the doctor can see:
Skin tags (redundant skin)
Prolapsed hemorrhoids
Abscesses, fissures, or fistulas
The digital rectal examination enables the doctor to feel abnormal structures, such as masses. This examination may be uncomfortable for the patient if there is severe pain or spasm. Also, digital rectal examination can't feel the internal hemorrhoids. In this examination, the doctor puts a gloved, lubricated finger through the rectum. The patient should be in the left lateral position with flexed knee towards the chest. Topical anesthetics may be useful to relieve any discomfort during the examination.
Visual inspection and digital examination can't detect internal hemorrhoids. Thus, the doctor will do an anoscopy to look through the anal canal. Anoscopy is an office procedure where the doctor uses a short, plastic, and lighted tube to look through the anus.
If the symptoms are still confusing, such as rectal bleeding, and the doctor wants to exclude other serious causes, he can do the following:
The doctor uses a flexible-lighted tube (sigmoidoscope) to look into the lower part (the last 40 cm) of the colon (sigmoid colon).
The doctor uses a flexible-lighted tube to look through the entire colon.
After the previous history and examination, the doctor can decide if the patient has hemorrhoids or the complaint is due to another cause; thus, the doctor can start the appropriate management plan.