Overview
Hemorrhoids (or piles) is a term that describes swollen and bulging blood vessels in the lower rectum and anal canal. Hemorrhoids represent a part of the normal anatomy of the wall of the anal canal that helps in stool control. They become a problem in case of inflammation, swelling, or thrombosis. The term "hemorrhoids" causes some confusion because it describes the normal and pathological state. But here, we will use it for the pathology. According to the site of hemorrhoids, we classify them into two types: internal and external hemorrhoids. The symptoms depend on which type you have. Internal hemorrhoids develop in the lower rectum and often cause painless rectal bleeding. Also, internal hemorrhoids may prolapse and protrude through the anus and cause potential problems, such as itching and pain. On the other hand, external hemorrhoids develop under the anal skin and irritate it, which results in an uncomfortable condition. Also, external hemorrhoids are susceptible to thrombosis, which causes acute and severe painful swelling.
Hemorrhoids are one of the most common causes of anal complaints. About 50% to 65% of the population experience some of the symptoms of hemorrhoids at some point in their lives. The risk of hemorrhoids increases with age and peaks between 45 and 65 years, but external hemorrhoids are common among middle-aged adults. It affects both sexes at an equal rate (no sex prediction), but the pregnancy may increase the risk.
The exact cause of hemorrhoid is unknown, but some risk factors predispose to the condition, such as a low-fiber diet, straining, and constipation.
A simple history and physical examination can diagnose hemorrhoids. But your doctor may need to exclude other more serious diseases (like colon cancer and ulcerative colitis), especially in the case of rectal bleeding. To confirm the diagnosis and rule out the other conditions, your doctor may do a colonoscopy.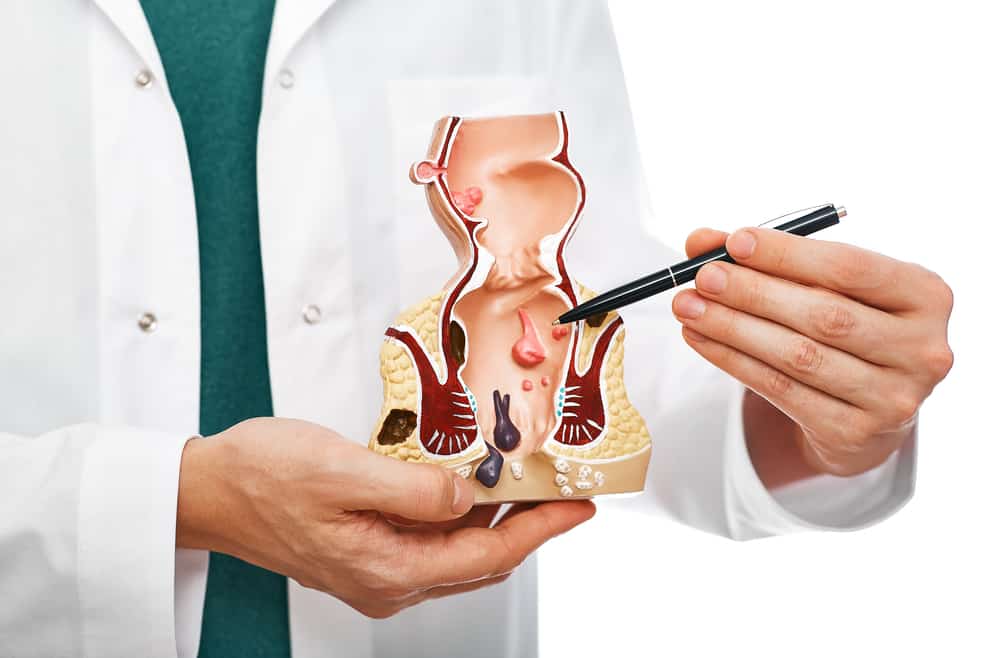 Hemorrhoids don't require treatment if they are asymptomatic. Management includes conservative management, minor procedures, and surgery. The initial measures, such as adequate hydration and high fiber intake, improve the condition. Analgesics may help in pain relief, and some topical creams may decrease the itching. If the conservative management failed to control the symptoms, the doctor would do some minor procedures -at the office- to shrink or remove the hemorrhoids. Surgery becomes an option after the failure of the other measures. The best treatment for hemorrhoids is prevention by diet and lifestyle modification.
Generally, most cases resolve without treatment or with conservative treatment alone, but some complications may occur, such as infection, ulceration, and thrombosis.
In this article, we will answer -in detail- the following questions about hemorrhoids:
What are the symptoms and types of hemorrhoids?
What are the causes and risk factors of hemorrhoids?
How can doctors diagnose this condition and confirm their diagnosis?
When do these patients need treatment? And, what are the treatment options for hemorrhoids?